---

Thundarr (USA, 1980-82)



---
"Tuhoutuneen maapallon tuhkasta on noussut uusi outo sivilisaatio, jonka uljain sankari ja suojelija on Thundarr Barbaari.
Thundarr käyttää apunaan taistelussa maata tyrannimaisesti hallitsevia velhoja vastaan yli-inhimillistä
ketteryyttä ja rajua rohkeuttaan. Tukenaan hänellä on taikavoimia hallitseva prinsessa Ariel sekä
7-jalkainen apinamainen ja äärettömän vahva olento Ookla."
---
JAKSOLUETTELO:


KAUSI 1 (1980-81):
N:o
Englanninkielinen nimi
Suomenkielinen nimi
1.
Secret Of The Black Pearl
Mustan helmen salaisuus
2.
Harvest Of Doom
Karkos
3.
Mindok The Mind Menace
Hornan soturit
4.
Raiders Of The Abyss
5.
Treasure Of The Moks
6.
Attack Of the Amazon Women
7.
The Brotherhood Of Night
8.
Challenge Of The Wizards
9.
Valley Of The Man Apes
10.
Stalker From The Stars
11.
Portal Into Time
12.
Battle Of The Barbarians
13.
Den Of The Sleeping Demon


KAUSI 2 (1981-82):
1.
Wizard War
2.
Fortress Of Fear
3.
Island Of The Body Snatchers
4.
City Of Evil
5.
Last Train To Doomsday
6.
Master Of The Stolen Sunsword
7.
Trial By Terror
8.
Prophecy Of Peril
---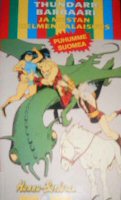 SUOMESSA JULKAISTUT VHS-MYYNTI-/VUOKRAVIDEOKASETIT:
Thundarr Barbaari ja mustan helmen salaisuus
(1993)
(jaksot 1-3)

Kasetissa suomenkielinen puhe, väri, 60min.


---